Pediatric Chiropractic Care in Greenwood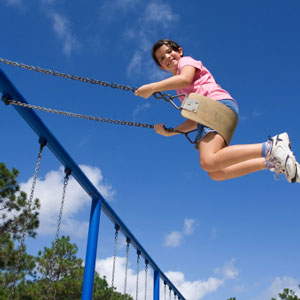 You'll love how quickly your kids respond to chiropractic care. At the office of Dr. Erin Jacobs DC, we love seeing our young practice members who sleep through the night, go to the bathroom regularly and focus better in school. They report fewer injuries, get sick less and don't have digestive problems. Our goal is to make sure that all pathways in their body and nervous system are clear so that they can grow into their optimal potential.
As an adult, you have decades of bumps, bruises, falls and stress on your nervous system. A child, however, is starting with a clean slate. We want to keep it that way. All of us want our children to have the best possible life. That means making sure they're as healthy as they can be. With our quick checkups, we can ensure that your child isn't affected by any common issues.
Special Needs Children Welcome
Dr. J is your special needs specialist. She is the founder of The Special Needs Specialist, which offers an eight-week online course. If your child has special needs, know that Dr. J is extremely qualified to work with this population.
For your first appointment, we'll have you come in alone without your child to go over their history, therapies and medications. We know your child might have a difficult time sitting through this type of appointment. We'll welcome them back for a second visit to begin their care.
Our Gentle Techniques for Kids
Soft, hands-on pressure is all you need to adjust a baby. You can liken it to the pressure you'd use to test the ripeness of a peach. Most babies sleep right through the adjustment. If your child is older, we'll play games while we evaluate them and adjust them. Most of our pediatric practice members enjoy getting adjusted and think that it's fun.
A Baby's Success Story
One of Dr. J's practice members was an infant who hadn't gone to the bathroom in three days. Our chiropractic assistant, who loves to hold babies, took the infant so that the mom could check out at the front desk. Soon, our chiropractic assistant had to make a run to the store for new clothes—the baby had a much-awaited bowel movement that went all over! Commonly, babies fill their diapers before their parents even get them home from their adjustment.
Learn More Today
Schedule your first appointment for pregnancy care Greenwood. Contact our team today. We are open late for your convenience.
CONTACT US »
---
Pediatric Chiropractor Greenwood MS | (662) 374-5252