Meet Dr. Erin Jacobs Stagner
With a mom who was a chiropractor, Dr. J grew up working in the office. She was born and raised in the small town of Tippo, north of our town. She has fond memories growing up with her brother and family in the country. A field of cotton blanketed their front yard. Her father worked his way up into management at Batesville Casket Company. With hard-working parents, Dr. J learned early on the advantages of diligence, starting college at age 16.
A Well-Rounded Education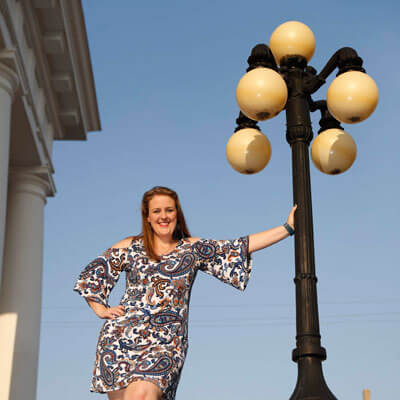 When Dr. J enrolled at Logan University outside of St. Louis, she was the youngest person in her class. She graduated in 2006. The degrees Dr. J holds include
Bachelor of Science in Human Biology, 2004
Doctor of Chiropractic, 2006
Master of Sports Science and Rehabilitation, 2010
Master of Human Anatomy and Physiology Instruction, 2017
The additional qualifications Dr. J has earned include
Advanced Proficiency Rating, Activator Methods®, 2017
Ballet Fitness Instruction – American Sports & Fitness Association, 2018-2019
Yoga Fitness Instruction – American Sports & Fitness Association, 2018-2019
There's more to health than just the physical. There are so many layers: emotional, spiritual and more. I want to help people realize that they can have it all.
Discovering the Power of Chiropractic for Pregnancy
While in school, Dr. J saw a patient in the clinic who had tried acupuncture, medication and other alternative therapies for her low back pain. What the woman didn't tell Dr. J was that she had been trying to get pregnant and had several miscarriages. After about six months of care, the woman came in and said that after struggling for so long, she was finally pregnant. Chiropractic was the only thing she'd been doing differently, and she attributed her pregnancy to being under care. Dr. J is passionate about caring for pregnant women and is certified in the Webster Technique.
It took Dr. J a decade to come to terms with her daughter Maggie's diagnosis as a high-functioning autistic. Maggie went through physical therapy, occupational therapy and speech therapy. The experience left Dr. J feeling as if there was a gap in care. To fill it, she developed an eight-week online course for parents and professionals to work with the special needs population. With the Special Needs Specialist's online certification program, there is an opportunity to have better communication about the care and options for special needs and open doors for you to think outside of the box.
To stay up to date on the latest in the health and be involved in our community, Dr. J is a member of several organizations:
Mississippi Chiropractic Association
Logan College Alumni Association
Member, College Drive Seventh Day Adventist Church
Member, Greenwood Chorale, 2017-present
Member, Matinee Musicale, 2013-present
Enjoying an Active Life
Dr. J and her husband, Randy, live in our community. They met on a theatre set. It was Dr. J's first time directing a play at Greenwood Little Theater. They have three daughters: Maggie, Abbie and Lydia. Maggie goes to JZ George, Abbie goes to the Carroll Academy and Lydia is homeschooled. Their family is rounded out by their Great Dane, Zeus. As a family, they love to go outside for walks or bike rides. Dr. J is an avid reader, chef, traveler, teacher, friend, mom, wife and healer. "I believe that life should be experienced as an active participant. It's not a spectator sport."
Same-Day Visits Available
Same-day visits are only available for current practice members. There is a waiting list for new practice members. Paperwork needs to be submitted 24 hours before a new practice member appointment. Contact the office of Dr. Erin Jacobs DC today to inquire about a same-day appointment!

---
Dr. Erin Jacobs Stagner | (662) 374-5252