New Practice Members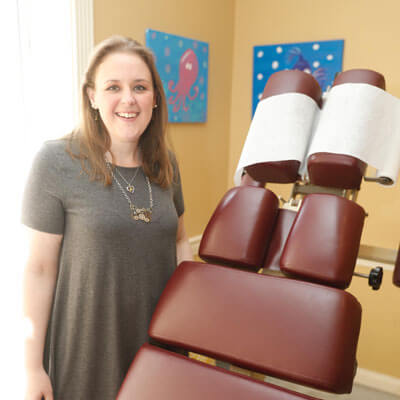 Welcome to the office of Dr. Erin Jacobs DC! Dr. J, as we call her, is honored to care for you. You can trust that we will partner with you to achieve your current and future goals. There are plenty of options out there for your health care. We're set apart by our high level of customer service and making sure that your experience with us exceeds your expectations.
When you walk in, you'll notice that our environment is full of life. The people here are upbeat and cheerful. Though we take your health seriously, we also think that having fun is a vital part of the healing process. We believe that life should be embraced and celebrated. Our team looks forward to you joining us.
How to Prepare
Please complete and submit your paperwork by 8:00 a.m. on the day of your appointment. That way, Dr. J can review it before you arrive. If you have insurance, bring your card in with you. You don't need to worry about wearing any special clothing for your first appointment.
ONLINE FORMS »

When you arrive, you'll watch a brief new practice member video, then meet Dr. J. She will have a consultation with you to discover what has brought you in. We want to know what you're held back from doing and what you would like to get out of care. Then, we'll perform a thorough examination.
Afterward, Dr. J will take some time to look at your consultation, exam, individual goals and any notes you've brought in from other doctors. It will be compiled and analyzed to make your care plan. Your first visit with us takes about 30-45 minutes.
At your second visit, you'll check in with the front desk. Then, Dr. J will meet with you for about 20-35 minutes. You'll go over your exam findings. Dr. J will fully explain the problems she has found and the care plan that is appropriate for you. You'll have your first chiropractic adjustment.
Payment Options
We are in-network with many insurances, including Medicare and Medicaid. We're a member of ChiroHealth USA and are contracted with Veterans Affairs. Contact us today to schedule your first appointment!
CONTACT US »
---
New Practice Members | (662) 374-5252